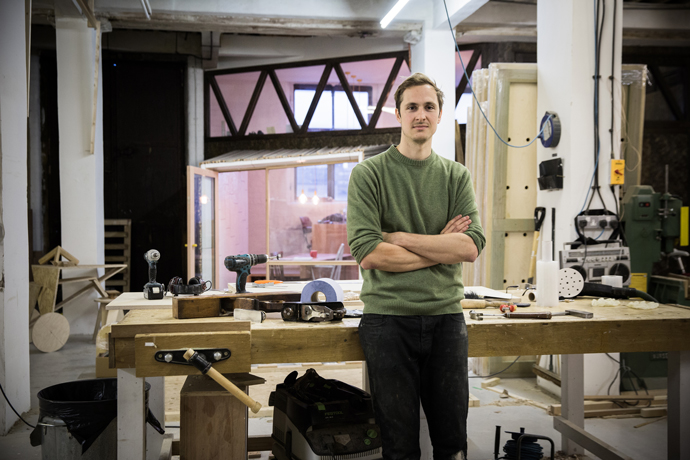 [Photo by Rob Evans Photography]
About Hugh:
Hugh Miller is an award winning contemporary applied artist specialising in studio furniture in wood. Hugh trained as an architect, and sees his work as small pieces of architecture, where the concept is embedded in the intricacy of the detail.
Hugh's work is based on a set of design principles, developed during his Churchill Fellowship in Japan in 2015. Made in British elm, brass, and Japanese bamboo, Hugh's work explores contrast: between texture and smoothness; between hidden and visible; between plane and lath; and between lightness and solidity. These contrasts illuminate the duality of Japanese and Western cultural influences that underpin his work.
Hugh's latest collection, titled 'The Coffee Ceremony' uses the everyday ceremonies of life in Japan as the inspiration for developing a everyday ceremony of his own – the 'coffee ceremony'. Within this context, the process of making the pieces and the process of making coffee emerge as the same: both are ceremonies of making.
Current / Upcoming Exhibitions:
'Coffee Ceremony' collection selected by British Council for British Pavilion at Cheongju Biennale, South Korea; (Sept)
 Selected to exhibit at Tomoshibito Makers Festival, Osaka, Japan; (Nov)
Featuring in New Member Showcase at Contemporary Applied Arts gallery, Southwark. (Aug-Sept)
'Coffee Cart no.2' on display at Millennium Gallery, Sheffield as part of John Ruskin Prize shortlist exhibition; (June)
Folded Record Bureau to go on loan to Naestved Museum, Denmark, for 'Craft and Technology' exhibition; (June)
Selected for 'Dish of the Day' group exhibition of tableware and furniture, at Bluecoat Display Centre, Liverpool; (July)
Previous Exhibitions (selected):
2017: Selected for COLLECT Open, at the Saatchi Gallery, London, organised by the Crafts Council.
2017: Selected for Design Nation 'Marks and Tools' Showcase at the Oxo Tower Gallery, as part of London Craft Week.
2016: Exhibited at Made:London, Marylebone.
2016: Joint exhibition of my furniture with textile weaver Rita Parniczky at Bluecoat Display Centre, Liverpool.
2016: Exhibited at Designer Crafts on the Mall, London, as a member of the Society of Designer Craftsmen.
2015: Exhibited at Celebration of Craftsmanship and Design, Cheltenham. (Also exhibited in 2016).
Awards (selected):
2017: (Current) Selected for Walpole 'Crafted' business mentorship programme, for emerging high-end craft studios.
2017: 'Coffee Cart no.2' shortlisted for John Ruskin Art Prize
2016: Winner of the Craft&Design Magazine Award at Made:London
2016: Selected as 1 of 15 international artists to design an ArtSuite bedroom at IceHotel, Jukkasjärvi, Sweden. Selected again in 2017
2016: 'High Commendation' in design, from Worshipful Company of Furniture Makers, for 'An Absence of Noise' collection
2015: Awarded Winston Churchill Memorial Fellowship, to research woodworking and design philosophies in Japan
2015: Winner, Wood Awards, for the design and construction of Constellations Bar, Liverpool.
2015: AJ Small Projects Awards, shortlisted for Constellations Bar
2015: RIBA Awards, nominated for Constellations Bar
2010: Awarded Silver Medal at RHS Tatton Show for design of 'Handbag of Harmonies' Garden
2009: Awarded North East Timber Trade Association Prize for best use of timber in a Masters Architecture thesis
2006: Awarded William Bell Memorial Scholarship by University of Newcastle
Collaborations (selected):
2017: Designing two pieces for Benchmark Furniture, as part of their new collection, to be unveiled at Decorex 2017
2016: Ceramics and bamboo for 'Coffee Cart no.1' made in collaboration with Japanese artists Saiko Fukuoka and Take Sagawa.
2014: 'Folded Stool' collaboration with RCA graduate Kate Rieppel, shown at Royal College of Art Summer Show, London.
Teaching, Lecturing, Writing (selected):
2017: (current) visiting lecturer at Osaka Institute of Technology, School of Architecture, Japan
2017: (current) timber design tutor at Newcastle University School of Architecture (started 2016)
2017: Lectures and panel discussions on practice and process for a number of institutions, including Crafts Council, Creative Lancashire, Leeds Beckett University, and Athenaeum Liverpool
2016: Visiting design tutor at Liverpool University School of Architecture
2016: 'Japanese Wood Craftsmanship' – book written to document my research in Japan
2016: 'The Use of Water as a Tool in Japanese Woodworking' – article for Carpenters Company Magazine
2016: Lectured on Japanese Wood Craftsmanship at Manchester University School of Architecture, Liverpool University,Glyndwr University, the Heritage Crafts Association, and Benchmark Furniture
Galleries: CAA; Bluecoat Display Centre; Bils & Rye; Artisan Alchemy; Ruskin Editions
Collections: Work held in private collections in London, Cheshire and the Lake District.