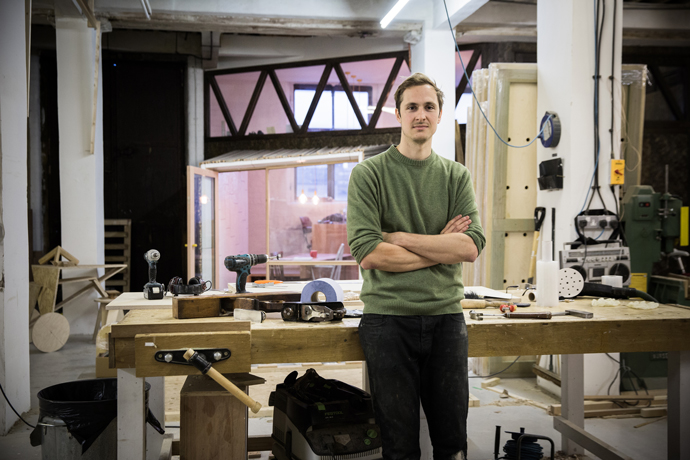 [Photo by Rob Evans Photography]
About Hugh:
Hugh Miller is an award winning contemporary applied artist specialising in studio furniture in wood. Hugh trained as an architect, and sees his work as small pieces of architecture, where the concept is embedded in the intricacy of the detail.
Hugh's work is based on a set of design principles, developed during his Churchill Fellowship in Japan in 2015. Made in English elm and brass, Hugh's work explores contrast: between texture and smoothness; between hidden and visible; between plane and lath; and between lightness and solidity. These contrasts illuminate the duality of Japanese and Western cultural influences that underpin his work.
Hugh's latest collection, titled 'The Coffee Ceremony' uses the everyday ceremonies of life in Japan as the inspiration for developing an everyday ceremony of his own – the 'coffee ceremony'. Within this context, the process of making the pieces and the process of making coffee emerge as the same: both are ceremonies of making.
Upcoming Exhibitions:
Selected Awards and Exhibitions:
2017: Selected to exhibit at COLLECT Open, at the Saatchi Gallery, London
2016: Selected as one of twenty international artists to design a suite at IceHotel.no.27, Jukkasjärvi, Sweden.
2016: Winner of craft&design Magazine award at MADE 2016
2016: Winner of 'High Commendation' design award, given by the Worshipful Company of Furniture Makers, for 'An Absence of Noise' c0llection
2016: Exhibition of Japanese-inspired furniture at Bluecoat Display Centre, Liverpool. Joint exhibition with textile weaver Rita Parniczky.
2016: Exhibited at MADE contemporary design and craft exhibition, London
2016: Exhibited at Celebration of Design and Craftsmanship, Cheltenham
2016: Exhibited at Designer Crafts on the Mall, Mall Galleries, London
2015: Awarded Winston Churchill Memorial Fellowship, to travel to Japan to research woodworking and craftsmanship.
2015: Exhibited at Celebration of Craftsmanship and Design, Cheltenham.
2015: Winner – Wood Award, for the Constellations Bar, Liverpool.
2015: Shortlisted for AJ Small Projects Awards for Constellations.
2015: Shortlisted for RIBA Awards for Constellations.
2014: Exhibited at Royal College of Art Summer Show in collaboration with jewellery designer Kate Rieppel.
2010: Awarded Silver Medal at RHS Tatton Show for design of 'Handbag of Harmonies' Garden.
2009: Awarded North East Timber Trade Association Prize for best use of timber in a Masters Architecture thesis.
2006: Awarded William Bell Memorial Scholarship, by University of Newcastle.
2005: Awarded Napper Memorial Fund Prize, by the School of Architecture at the University of Newcastle.