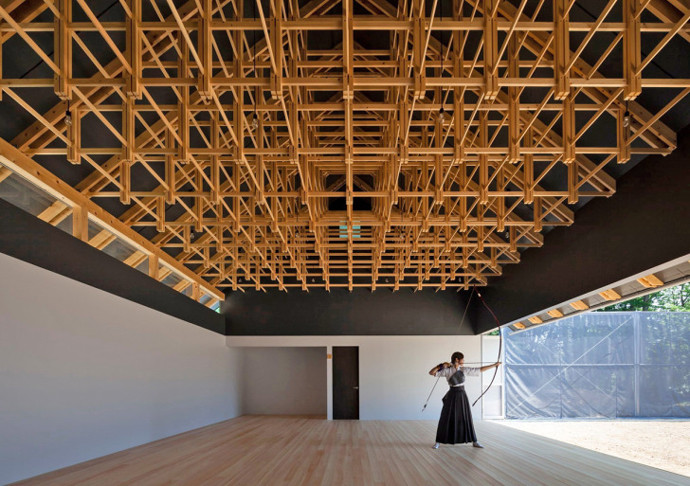 20th August 2015
In February this year I was awarded a Winston Churchill Memorial Fellowship in order to travel to Japan to research, document and report back on its unique woodworking culture.
I will be going to Japan from 27th October until the 22nd of December this year and I will be updating this blog regularly with my findings and experiences. These updates start now and will continue during my time in, and after returning from, Japan. I would love to hear your feedback on my study. If you would like to ask any questions, request information or just find out more about any of the subjects I cover, please get it touch at hugh@hughmillerfurniture.co.uk.
Why Japan?
I have been fascinated with Japanese cabinetry and woodwork since studying architecture at University. I learned, during the research for my undergraduate dissertation, that my favourite architects were themselves influenced by Japanese design motifs.  These were Greene and Greene (1868-1954), Charles Rennie Mackintosh (1868-1928), and Frank Lloyd Wright (1867-1969). The images below show the aesthetic reference to Japan made by these architects in some of their most famous works.
Since starting my furniture designing and making business in 2009, Japanese influences have started to permeate ever more into my design work, and I now find myself primed and impatient to know more about Japan's remarkable yet enigmatic woodworking culture.
When in Japan, I want to investigate how timber appears to have embedded itself as one of the country's most venerated materials. There are some obvious factors that come to mind: forests cover two thirds of Japan's land area, and timber is a light, workable, strong material to build and make with. However, I don't think this can be the whole story. Timber seems enshrined in the culture of Japan. From an outsiders perspective, it appears to sit at the heart of Japan's craft traditions, and Japanese vernacular styles of construction seem to bridge the centuries in a way that they don't in the west.
There are well-documented differences in the way timber is worked in Japan as opposed to western traditions. Tools are used on the pull-stroke, and planes are drawn towards the user when making a cut. This seemingly esoteric detail is actually quite fundamental. Western saws must be stiffened with a heavy, metal spine to stop the blade from bending as it is pushed through the cut. Japanese saws, in contrast, have teeth that engage on the pull stroke. As the saw is pulled towards the user the blade is tensioned, and so there is no need for a spine. This means that the blade can be thinner and lighter, and less energy is required to make the cut. But what effect does this have on Japanese cabinetry and woodwork? Do these differences in tool anatomy lead to alternative techniques of making or forms of jointing? This is one of the things I hope to find out.
Another aspect of my research is how Japanese society seems to venerate craftsmanship. This is most starkly demonstrated in the Japanese Department of Culture bestowing the honour of 'National Living Treasure' to the best proponents of traditional crafts. In the West we tend to venerate objects, as can be seen in the British Museum or the Metropolitan Museum of Modern Art in New York. In Japan, it seems like the person, the practitioner, the skill, is venerated. How does this reverence for craftsmanship within Japanese society effect the aesthetic and cultural landscape there? How do the differences between the societal position of craft in Japan and the West affect the practice of craftsmanship?
Finally, I want to try to understand how the tentacles of craftsmanship, particularly woodwork, seemly breach the boundaries of the craft sector, and embed themselves within Japanese life. It appears that the rituals of Zen garden maintenance and the Sencha tea ceremony are examples of this. Other examples might be the super-star status of their craft masters, and in the way that Japan's world famous architects appear to showcase traditional craftsmanship and carpentry in their buildings. Are there lessons we in the UK crafts sector could learn from our Japanese contemporaries?
By spending time in Japan, I hope to develop an understanding of the roll and scope of craftsmanship within its society and, on my return, I want to use this knowledge to further the cause of furniture making, and craft in general, within the UK. What can we learn from the Japanese attitude to craft? Are there characteristics that we as a society can emulate in order to enrich our own experience: as exponents, supporters and consumers? And how can craftsmen and women utilise their unparalleled knowledge of materials and making for the benefit of all rather than just those wealthy enough to buy.
I'm incredibly excited to start this study of Japanese craftsmanship and woodworking. I'm aware that, far from having the answers, I'm not sure I even know what the questions are yet.
In this vein, I ask for you help. If you know someone in the UK or Japan that you think may be able to assist with my study, and you would be happy to introduce me, I would be grateful for your help. I am particularly interested in connecting with people involved in the practice or academic study of craft, architecture and woodworking, but also those with knowledge of the sociological and societal aspects of this subject. You can get in touch via email at hugh@hughmillerfurniture.co.uk, or call me on 07789 768 302.
Check back regularly for the next update, and please do get in touch if you have comments, questions or feedback.
Thankyou for your support,
Hugh