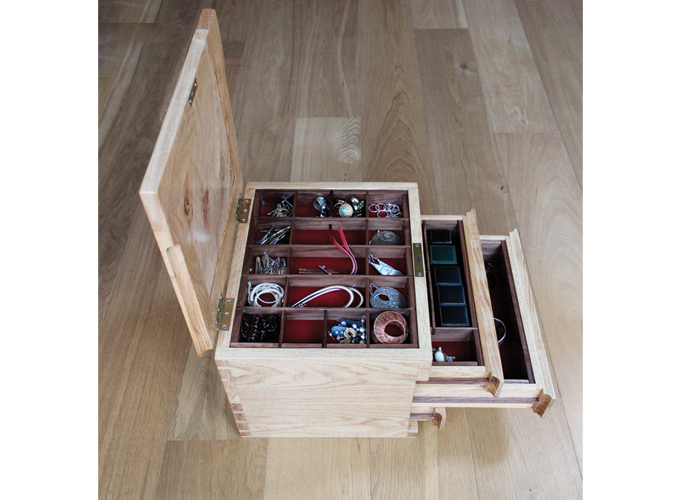 2nd September 2012
I've just finished a really nice jewellery cabinet that has some nice details and which was a lot of fun to make. The cabinet was a graduation present for the client's daughter, so the design was created collaboratively, which is always good because then the person gets exactly what they want.
The jewellery cabinet box is quite large for its type – 400mm wide x 330mm deep x 300mm high, but it incorporates a lot of different spaces and compartments for storing different sized objects.
The outside of the box is dovetailed at the corners and has a hinged top. The top is one of the nicest features, being made of Pippy Oak with a wavy grain pattern. The lid panel was joined at 45 degrees in order that the beautiful knotty 'pips' were showcased and not left in the offcuts on the workshop floor.
Underneath the lid is a set of 14 small compartments and 3 larger ones made from walnut. Walnut is used to line all the interior spaces, and its chocolate colour gives a lovely contrast to the orangey/tan of the oak. The base of all the compartments is lined with my favourite red felt which is made from British wool.
The front of the cabinet has three drawers set in flush with the face of the box. Each drawer is dovetailed at the corners and slides in Walnut runners.  The drawers are opened with a cute little groove at each side, which keeps the drawer fronts clean and simple.
The inside of the drawers are also lined with the walnut and felt. The top drawer has five large compartments, and the bottom drawer is not divided so bigger things like photos and letters can be stored.
The middle drawer has an oval shaped dowel of walnut which sits in a cradle in the walnut lining, and is used to store bracelets and bangles.
The cabinet was finished off with the owners initials and the year of her graduation inscribed in the side. Five coats of oil later, and it was all done. It one of my favourite pieces I've made and came together very nicely. Here's a photo of the finished piece…
This blog post was written by Hugh Miller, of HM HandMade, who specialises in bespoke hardwood cabinetry and handmade furniture. If you would like to see more of the work by Hugh, check out the website at www.hmhandmade.co.uk. Alternatively, get in contact directly on 07789 768 302, or email hugh@hmhandmade.co.uk.
Handmade jewellery cabinet Cheshire; Bespoke jewellery cabinet box Chester; Handmade furniture maker Wirral, Liverpool, Cheshire and Chester; Bespoke cabinet makers and handmade furniture makers Wirral Cheshire, Chester and Liverpool.