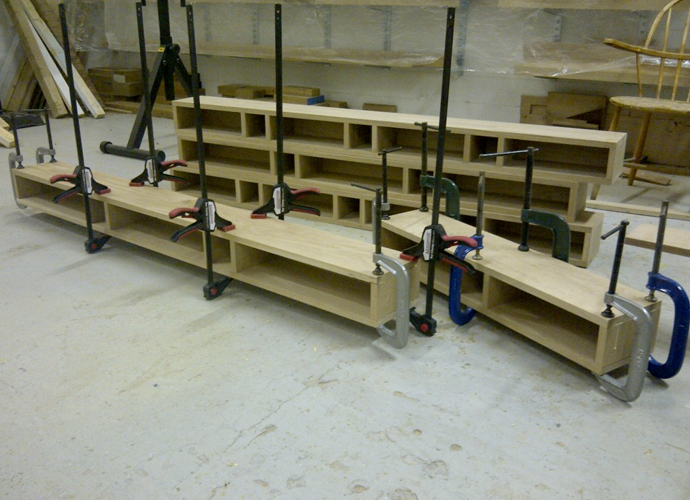 9th April 2012
Towards the end of last year, I completed an Oak Study which was a real triumph. At that time I wasn't writing a blog but, since I am now, I thought I'd add some photos about how it was made.
The client's existing study consisted of a small desk and chair, with a little shelf space and and a reading seat in the corner. A large door opened inwards and took up any remaining floor space. The brief was to provide the maximum amount of space and storage in the confines of the 4.5 m.sq room . By overlapping each function into the next, wrapping the design right into the corners and installing a sliding door we managed to do a whole lot more. The desk area was doubled, the storage space was tripled, and the free floor area was increased. We also incorporated a very cool seat which was upholstered in poppy-red leather. The photo diary below details how the design was put together…
For more beautiful medullary rays, check out this font cover I made earlier in the year…
If you'd like to see how these types of doors go together, check out my blog post on wedged mortise and tenon joints…
If you would like to see more info about the fitted furniture designed and handmade by HM HandMade, check out the website here: www.hmhandmade.co.uk.
Handmade Oak Study, Fitted Oak Study, Handmade Fitted Furniture, Bespoke Study Furniture, Handmade Oak Furniture, Fitted Oak Furniture, Handmade Study.