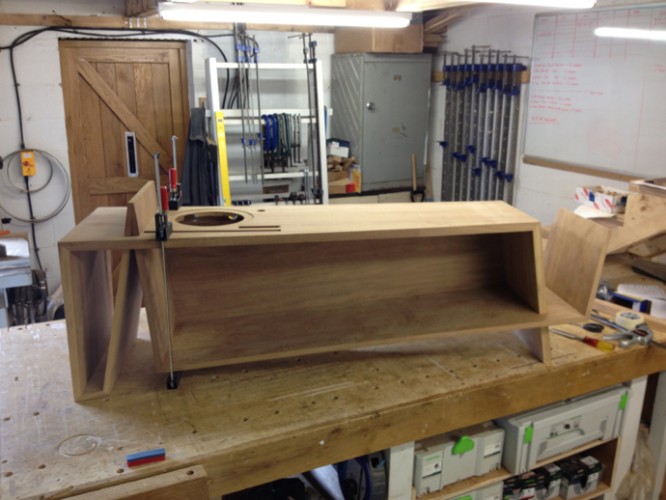 18th August 2013
This piece, the Folded Record Bureau, is something I've been designing and revising for around a year, but I've only just found time to make. It combines three of my favourite things – wood, vinyl records, and 80's styling. The piece is the second from what will be my first furniture collection – The Fold.
The design consists of a band of Iroko folded to form a low bureau, record shelf, and magazine rack. Set into the top is a vintage Bang and Olufsen turntable.
Iroko was chosen for the design because it has a good likeness to teak which was used for high quality furniture in the  60's, 70's and 80's. Teak is now very difficult to buy from legitimate suppliers and is incredibly expensive. Iroko is a beautiful West African hardwood with a honey-brown colour and tight, straight grain. It's quite a difficult timber to machine because it's very resinous and can distort a lot when cut and shaped. Iroko can be hard to obtain from sustainably managed sources, and is described by the IUCN as 'Near Threatened'. That being said, if this type of timber should be used for anything, then it should be carefully designed and skilfully made things of beauty. I hope I've lived up to those ideals with the Folded Record Bureau.
The turntable is a 1985 Bang and Olufsen BeoGram 5000. It was hugely important to me that the turntable appeared to be seamlessly set in to the table top, and that it didn't look stuck on. Achieving this was the most difficult piece of making I've ever attempted.
Although the table surface is flat and smooth, the underside is recessed to within 2mm of the top in places, which is much closer than I'd usually be comfortable with. There was no other option, however, as the turntable needed to be at a specific height so that the rotating disc didn't foul on the table top. This pushed the motor and drive belt, which does the work of turning the record, very close to the table surface. In the end, I cut off everything from the turntables soleplate that was not essential, and made recesses in the timer for the remaining components with absolute minimal clearance.
The jointing of the table is accomplished through miters, strengthened with beech biscuits. It was important to use miters as this gives the impression of the timber being folded around a corner rather than jointed or butted-up. Miters are really difficult to machine and assemble accurately, and I made a number of gigs which helped to clamp the assemblies together. These jigs keep the pieces to be joined at the correct angle and allow the biscuits joints to be clamped together without distorting.
The thickness of the iroko changes from 30mm to 20mm along it's length. This is to add a bit of dynamism and fluidity to the design, and also to give an extra 10mm depth for the turntable to be installed.
After endless sanding, and once everything was assembled, I oiled the piece and installed the turntable. Some of the wires needed re-soldering, but once everything was in place, it worked on the first go.
Hugh Miller specialises in bespoke handmade furniture and cabinet making in Liverpool, Cheshire, Wirral, Chester and Manchester. If you'd like to discuss this piece, or any other aspect of Hugh's work, get in touch on 07789 768 302 or email hugh@hmhandmade.co.uk. You can find more info on Hugh's website at www.hmhandmade.co.uk.
The Folded Record Bureau by Hugh Miller. Handmade record table furniture, bespoke audio furniture, handmade bespoke furniture and cabinet making in Liverpool, Cheshire, Wirral and Chester, Furniture designers and makers in Liverpool, Cheshire, Wirral and Cheshire.