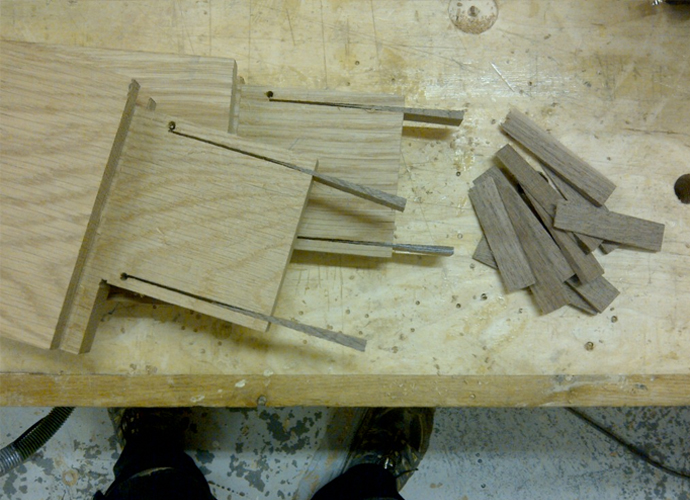 24th August 2014
This week I've been making a set of internal doors, solid oak framed with oak-veneered panel. The most interesting element of the project is the wedged tenons which join the frame of each door together. I had fun making them, so I thought I'd do a little piece with some pictures about the process.
I cut a haunched tenon into each end of the rail pieces. 'Haunched' just means there's an extra shorter bit of tenon which helps stop the rail from twisting. (I'll probably do a separate piece on cutting tenons so I'll spare you the details here).
The rails were routered on one side to form a groove which would accept the veneered panel. This was a bit of a pain to do because the router kicks out shed loads of dust and is a bit slow.
Usually, with hidden tenons (the kind where you can't see any of the joint when it's assembled) small discrepancies in the sizes of the tenon or mortise are inconsequential. With these wedged mortises, however, the tenon comes all the way out the back of the joint, which means they have to be spot on. This means each rail has to be marked individually and each tenon is planed and adjusted so it fits perfectly. Very time consuming.
Once each tenon is fitted to it's mortise, the tenons can be cut in order to accept the wedges. I drilled a small hole at the base of each cut so the wood can flex more easily when wedged.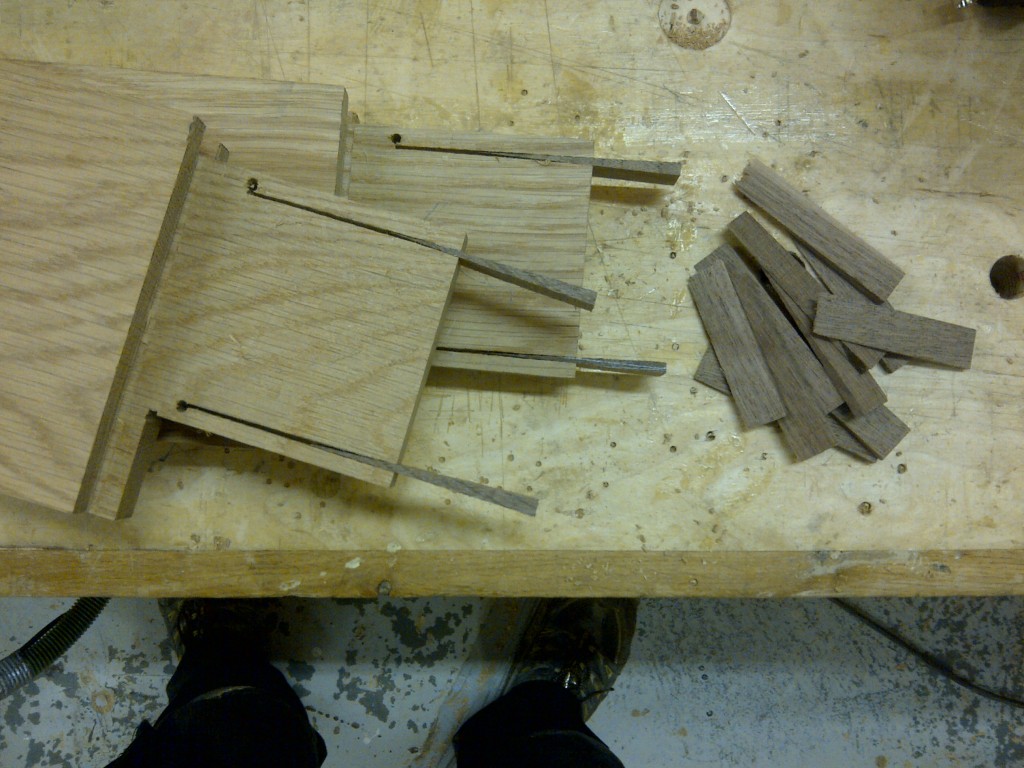 The wedges are made of walnut, to give a nice contrast to the oak in the finished piece. They were cut on the bandsaw. I could have done them by hand, but I was feeling a bit lazy.
Last thing to do is expand each mortise on the outside face in order to allow for the expansion that will happen once the wedges are driven in.
Assembly. Gluing up is always stressful, but the joints went together really nicely, and they're so strong I could take the clamps off as soon as the wedges were put in.
Here's the finished joint. I'll be posting the images of the project when it's complete so check back soon. Comments, abuse and love-letters welcome.
Handmade oak doors; Bespoke interior door, Oak panel door