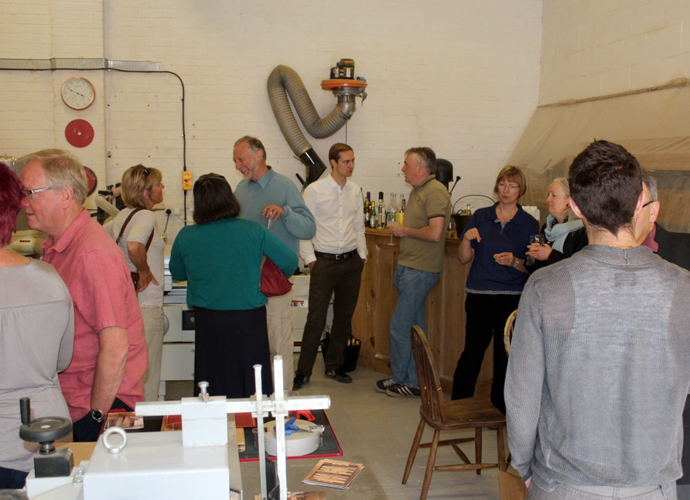 17th June 2012
Last Sunday, it was the 2012 Workshop Open Day at HM HandMade. I like to have an event like this at least once a year, because it gives me a chance to catch up with clients and suppliers I haven't seen in a while, and show off some of the nice projects I've completed in the interim.
It's a great opportunity to let people know about the business, and about the handmade furniture and bespoke cabinetry I specialise in. This Summer it's 3 years since I started HM HandMade, so the Workshop Open Day was also a marker of the anniversary.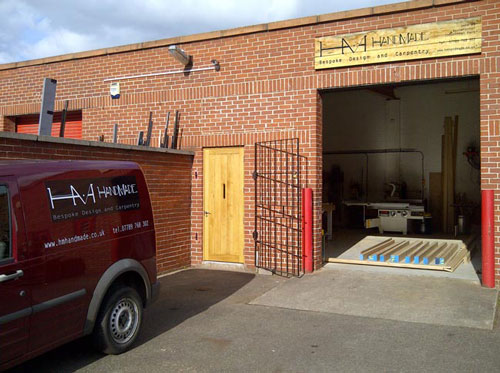 Specialising in handmade furniture means that I can't just buy some cakes from Sainsbury's – they have to be homemade. Luckily, mum, dad and a few friends helped me make some amazing things to eat. I may be a little biased, but my brownies were the best things I've every baked, and they went pretty fast too.
One of the nice things about my job is that it's very visual and so it's a lot of fun showing people the work I've been doing. In order that people would have something to remember the day by, I had a set of postcards printed with nice photos of the work and how to get in touch on the back.
It was a really great day, and we had around 60 people down over the course of the afternoon. Thank you to Tom and Tom for helping set everything up; to Jill, Jane, Mum and Dad for their fantastic baking skills; and to everyone who was able to come down.
If you would like to know about future events and open days at HM HandMade, get in touch with Hugh on 07789 768 302, or email hugh@hmhandmade.co.uk. It would be great to hear from you.
If you would like to see some of the handmade furniture, bespoke interiors, and architectural joinery Hugh makes at HM HandMade, check out the website at www.hmhandmade.co.uk . If you have any questions or would like more information, get in touch by phone on 07789 768 302, or email hugh@hmhandmade.co.uk.
Handmade Furniture Cheshire; Handmade Furniture Chester; Handmade Furniture Liverpool; Handmade Furniture Wirral; Cabinet Makers North West; Bespoke Cabinet Makers Cheshire; Bespoke Furniture Chester; Handmade Hardwood Furniture Wirral; Architectural Joinery Cheshire; Architectural Joinery Wirral; Architectural Joinery Liverpool; Architectural Joinery Chester.